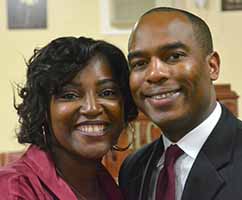 Reverend Sir Antonio Love
Pastor, From the Heart Church Ministries of Chicago
Pastor Sir Antonio Love is a man who loves God and loves his family. He is married to his lovely wife Adrian Love and they have three daughters, Charity, Faith and Hope. He is a graduate of CSU where he earned a Bachelor of Science degree in Education. In 2013 he earned his Master's Degree in Educational Leadership from Olivet University.
In April 2012, he was installed as the pastor of From the Heart of Chicago by  the Founder of From the Heart Church Ministries®, Dr. John Cherry. He continues to serve in this capacity under the leadership of the Episcopal Pastor of From the Heart, Bishop John A. Cherry II. As the pastor of the church, Pastor Love also serves as the Chair of the Board of Trustees of From the Heart of Chicago.
Pastor Love has a sincere heart to seek and save the lost. He has a heart to see men and families restored and living in the fullness of God's promises.